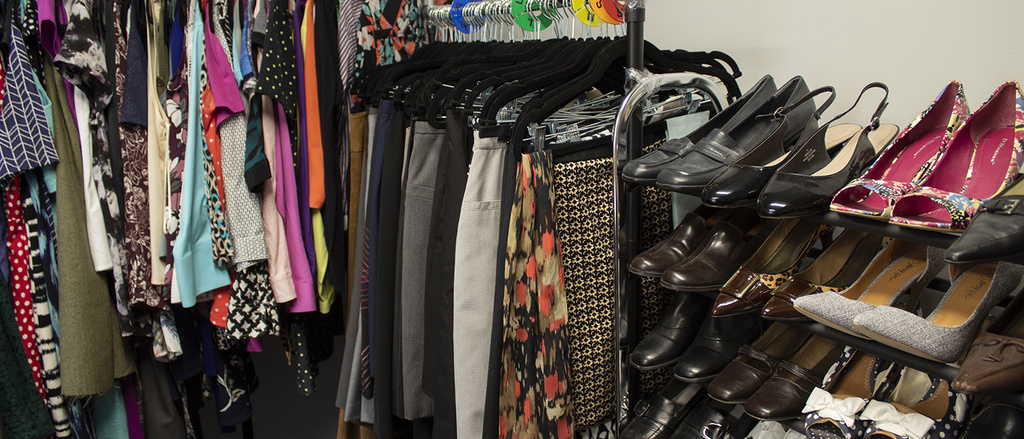 Our mission is to provide University of Iowa students, faculty, and staff with access to quality, new or used, professional clothing at no cost.
Each semester, any student, faculty or staff member can obtain up to 5 free professional attire items to be used for interviews, jobs, class presentations, and more. These 5 items are yours to keep forever, free of charge!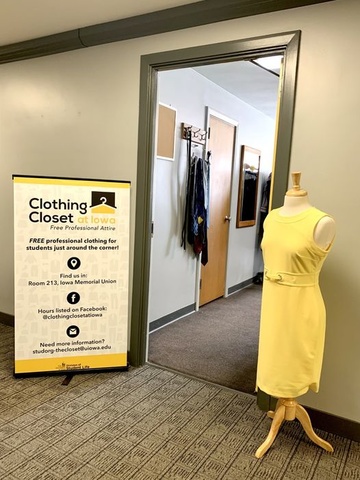 Summer 2023 Hours
Tuesdays: 2:15 p.m. - 4 p.m.
Thursdays: 10 a.m. - 11 a.m. and 4 p.m. - 5 p.m.
Location
The Clothing Closet at Iowa is located in room 213 of the Iowa Memorial Union. The easiest access is through the Iowa House Hotel lobby entrance.
Social Media
Follow the Clothing Closet on Facebook, Instagram or email us!
Donate
To give a monetary donation to the Clothing Closet through the University of Iowa Center for Advancement, please select "see additional options or make multiple gifts" and then "other." Specify it should be given to the Clothing Closet at Iowa.
The Clothing Closet at Iowa also accepts monetary donations in the form of cash or check (make payable to "Clothing Closet at Iowa"). Donations can be accepted at the office of the Dean of Students in 135 IMU.
Clothing Donations
The Clothing Closet at Iowa is not currently taking any donations besides men's and women's suit jackets and suit pants (preferably in a set) and men's dress shirts. All items donated must be in good condition and sizes clearly marked either on the tag or with a note left with the donation. These donations can be dropped off at the IMU House Hotel front desk anytime during their open hours, or any time during the open hours of the Clothing Closet. PLEASE DO NOT LEAVE BAGS OF DONATIONS OUTSIDE OF THE CLOTHING CLOSET DOOR DURING CLOSED HOURS!
Media About The Clothing Closet
Read more about the Clothing Closet on KWWL News 7
"So often, professional clothes can be inaccessible and super expensive to students on a college budget … we're hoping to knock down those barriers to success."

 - Lindsey Meyer - Daily Iowan