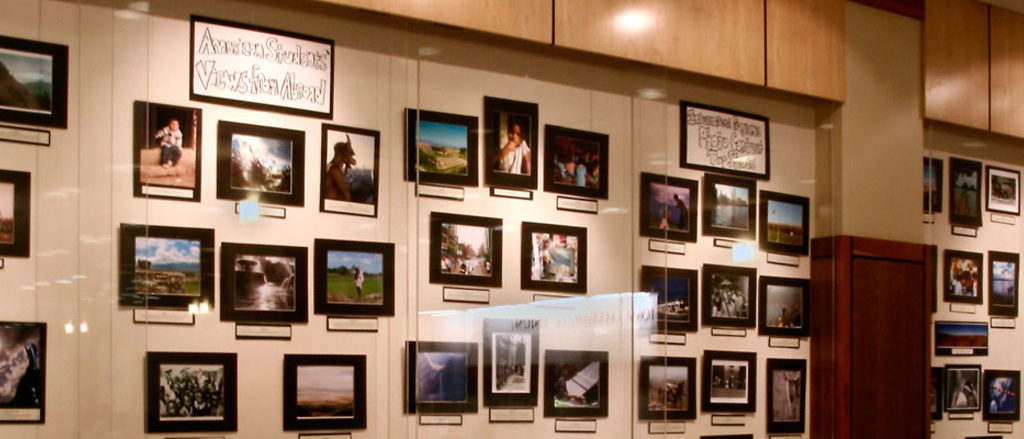 The Kendall Gallery is managed by Student Life Communications (SLC). SLC provides the artist with exhibition space for the period of one month and a catered opening reception for 50, along with promotional materials. These materials include 50 invitations along with vinyl lettering and a mounted Artist Statement for the Kendall Gallery window, designed by SLC. All services are provided free to exhibiting artists.
Who is Jean Kendall?
Jean Kistler Kendall was a University staff member for 38 years. She began her University career as a secretary to the Chair of the Department of Physical Education for Women, and after a brief hiatus returned in 1965 as Director of Event Services in the IMU. Jean held several positions with increasing responsibility in the Iowa Memorial Union serving as Director when she retired in 1998.
Throughout her career she demonstrated great care and respect for students who she interacted with on a daily basis. From the many students who were employed in the IMU to the student groups who used the facilities and were housed in the building, as well as the many constituencies who used the IMU for various activities, Jean was the face of the IMU.
Jean was also very active in the campus community. Beginning in 1967, she co-founded the Staff Council. She served as a charter member and chair of both the University Council on the Status of Women and the Women's Resource and Action Center Advisory Board. In 1994, Jean received the Iowa Board of Regents Award for Staff Excellence and in 1998, the University of Iowa Distinguished Achievement Award from the UI Committee on the Celebration of Excellence Among Women.
Jean was an advocate for the arts and is responsible for the creation of the program to install original Iowa artists' works in Iowa House Hotel rooms and graphic arts of Iowa cultural events throughout the IMU. She was also involved in the Young Iowa High School Artist Exhibit which for many years showcased art from high school students in the IMU. The Kendall Gallery recognizes her role in the aesthetic development of students and recognition of the arts at Iowa.