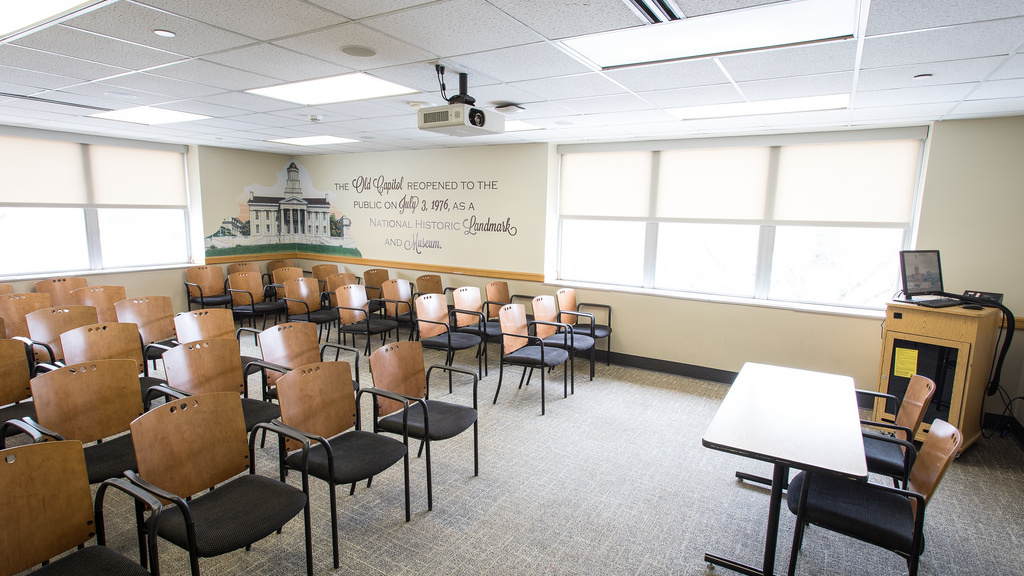 Rates
| | |
| --- | --- |
| UI student organization events | $0 |
| UI departmental events | $0 |
| General public events | $150 |
Room number: 347
Built in 1842, the Old Capitol sits in the middle of the Pentacrest's five buildings at the center of the University of Iowa's campus. On December 28, 1846, when Iowa was admitted as the 29th state of the union, Iowa City was declared the state capital of Iowa, and the government convened in the Old Capitol Building. Fifty-nine days after being admitted to the union, the state of Iowa passed legislation in the Old Capitol authorizing the formation of the state's first public university, the State University of Iowa, which is known today as the University of Iowa.
Between 1857 to 1863, Old Capitol housed the University. As the UI grew, the Old Capitol remained the focal point of the university, serving as a library, chapel, and armory, as well as providing space for classrooms and offices. The state of Iowa authorized a major renovation of the building in the 1920's and it continued to function as a classroom and administration building. The office of the UI President was located in the Old Capitol until the 1970s.
On November 20, 2001, contractors using open flame torches and heat guns on the cupola supporting the building's gold dome accidentally set the cupola on fire. The dome was destroyed and much of the building was damaged. In February 2003, a new, 12,000 pound wood dome was placed on top of the Old Capitol. The dome is covered with 23​3⁄4 carat gold leaf.
Capacity by setup
| Layout | Capacity |   |
| --- | --- | --- |
| Theater | 41* | |
* denotes a room's standard setup. Minimum setup change fee: $40.
Available features and services
Computer

Ethernet connection

Projector screen

Speakers (for computer audio only)

Markerboard

Wifi