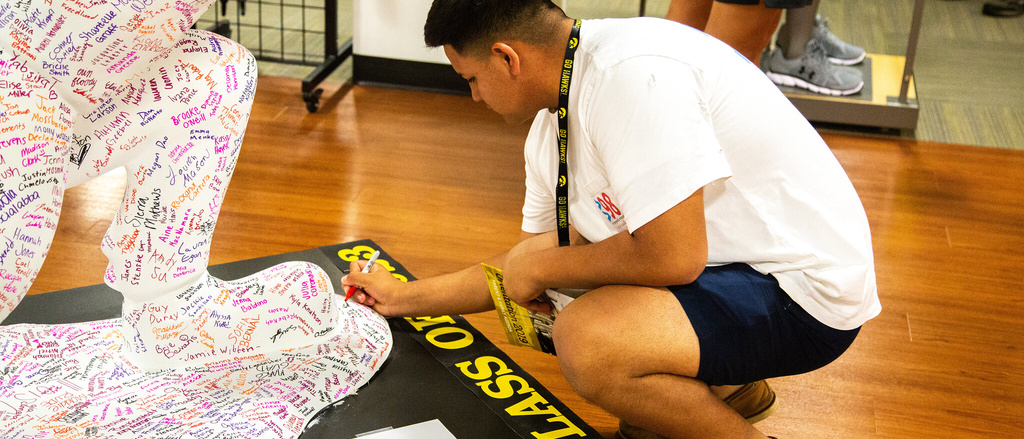 Each year, the IMU serves as a welcoming place for students and families attending orientation at the University of Iowa.
Here are a few resources that may be helpful during your visit.
Where is the IMU?
Orientation takes place at the Iowa Memorial Union (IMU) which is located at 125 N Madison St, Iowa City, IA 52242. For parking, you should have a parking pass (included with your orientation confirmation letter) for the parking garage directly across from the IMU. Note: if the IMU ramp is full, orientation staff will redirect you to the North Ramp located two blocks north of the IMU.
More orientation resources
Get Your Questions Answered
Stop by the Welcome Center at anytime during Orientation. Students will be around to give directions, referrals, advice, and assist any questions you have while exploring campus.
Iowa Hawk Shop
The Iowa Hawk Shop, located on the ground floor of the IMU, is where you will be able to find University of Iowa Hawkeye apparel, gifts and accessories, books and supplies, and more. Tech Connection, located inside the Iowa Hawk Shop, offers educationally priced software and all of your technology needs.
Where to eat
The Street Hawk food truck is conveniently located outside the IMU - next to Hubbard Park - during Orientation. Here you can get a BBQ Bacon Cheeseburger, a Falafel Salad, or something in between! The Union Station Food Court, located in the ground floor of the IMU, offers a wide variety of food. Here you can order a pizza from Godfather's or fresh baked deli sandwiches from Erbert and Gerbert. Not that hungry but want something for on-the-go? Try Old Gold Creamery or the Union Market-both are also located in the IMU. There are also plenty of places to eat in downtown Iowa City.
Where to stay
The Iowa House Hotel offers high-speed Internet access, complementary breakfast, cable TV, and fitness facilities. The best part? It's located inside of the IMU. Located only 2 blocks from downtown Iowa City, and in the heart of the University of Iowa's campus, the Iowa House Hotel is a great option for any time you choose to stay in Iowa City. There are also other lodging areas in the Iowa City area as well.