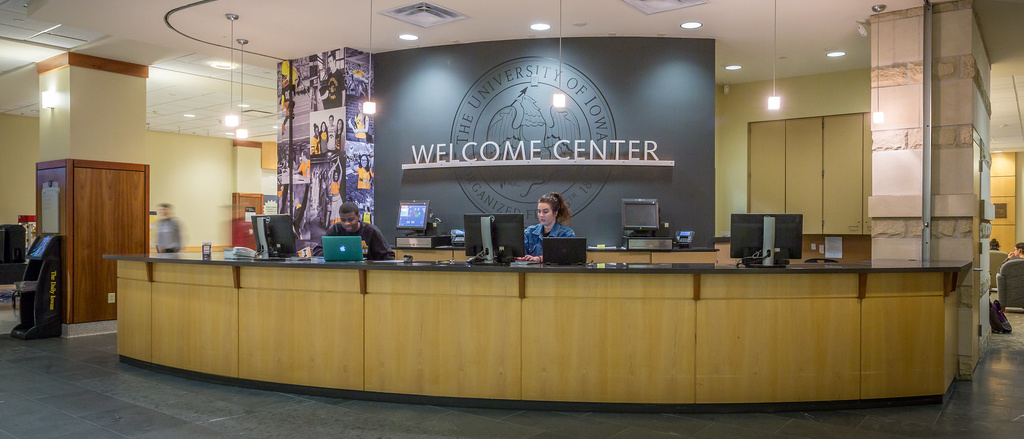 Contact Us
When You Visit In-Person
Hand sanitizer will be available in several locations around the Welcome Center area.
A limited number of additional masks will be available for IMU guests at the Hubbard Commons and Iowa House Hotel entrances.
Services offered
Directions, general information and campus maps
Information regarding IMU events
Assistance during IMU events with A/V equipment, room temperature, tables/chairs/setup, or other issues

Student Organization pick-up catering

Folding tables checkout for student organization information tabling - available on a first come, first served basis (must have a confirmed reservation with IMU Event Services to checkout a table)

The following services are temporarily suspended due to COVID-19:

Charger and umbrella checkout
Recreation equipment checkout (soccer balls, pop-up goals, footballs, flag football set, cones/bases, frisbees/flying discs, volleyballs, horseshoe set, slammo)
Outdoor event equipment checkout (a-frame standing signs, tabling kits, clipboards)
Checkout program (sponsored by USG)
temporarily suspended
Students can check out umbrellas, iPhone, android, and laptop chargers, and recreation equipment at the Iowa Memorial Union Welcome Center on the 1st floor. Students may rent umbrellas or chargers for a 24-hour period. A flat $25 fee is applied to a student's UBill if the rented charger or umbrella is late, lost, or stolen. Daily fines are charged if not returned.
Registered student organizations can checkout items for outdoor events. This includes folding tables, tabling kits (clipboards, attendance clicker, pens, tape, baskets) extension cords, sandwich boards, and coolers. Student organizations will be charged the replacement cost for items not returned after 48 hours.
If items are returned with damage due to the item being worn down, there will be no replacement fee. However, if they are returned with damage clearly caused by malicious actions, the student will be fined for the full price of the charger or umbrella.
Welcome Center employees will judge the situation on whether the charger was tampered with, or purposefully damaged.
UI Rideshare
UI Parking and Transportation supports several ridesharing programs for university faculty, staff, and students who want to share their commute or do not have access to transportation. These programs are intended to help reduce parking demand on campus but also provide many other benefits including reducing traffic, congestion, and pollution. Check out our programs to see if one is a good fit for your needs. UI RideShare Network is an application to help university faculty, staff, and students find a match for daily commutes or find single matches to an event or for finding a ride home. If you have any questions, please contact Commuter Programs at (319) 353-5770 or commuter-programs@uiowa.edu.
Off-Campus Student Support
Learn more about living off-campus at the University of Iowa! Visit our Off-Campus Living Guide here: https://offcampus.uiowa.edu/guide/.