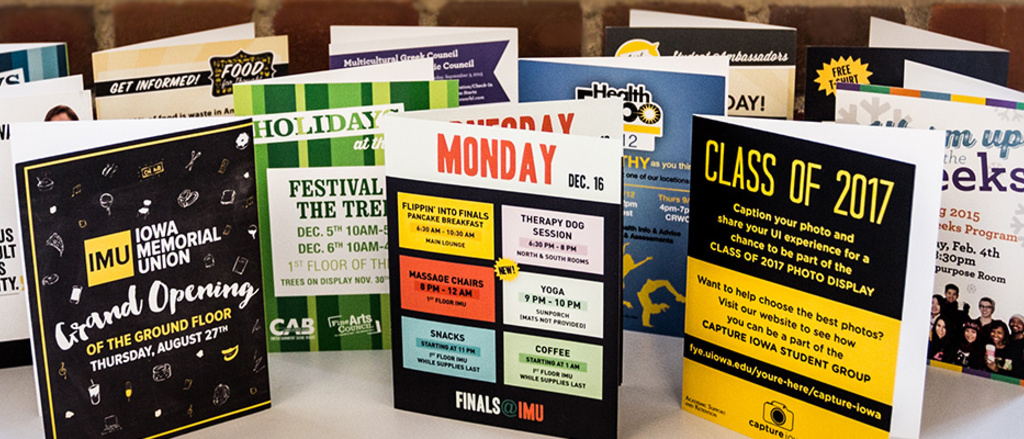 Tabletop space is made available for student organization and university department announcements about university events and services. Approval for table tents will be given to organizations promoting university sponsored events. Table tents must be strictly informational (for example publicizing events, meetings or programs). Table tents expressing specific opinions or beliefs will not be approved. The display of informational material in the IMU should not be considered an endorsement by the Iowa Memorial Union or the University of Iowa.
Table tent reservations
Organizations can reserve table tents for a minimum of three days in a row and a maximum of five days. Organizations are allowed up to one reservation per month. Reservations can be made by emailing imu-eventservices@uiowa.edu. A finished table tent must be provided to IMU Event Services before final approval is given. Table tents should be 8.5"x5.5" and folded in half to form tent measuring 4.25" wide x 5.5" tall, so that it stands like a greeting card; they must also be printed on cardstock.
It is the responsibility of the sponsoring organization to place the table tents on the tables in the designated areas listed below. To maintain necessary sanitary conditions, IMU event staff will dispose of table tents as they become stained or dirty and will remove and recycle all table tents at the end of their reservation.
Table tent locations
Only one (1) table tent will be displayed per table in any designated area at one time.
Table tents can be placed in the following approved locations:
| Location | Number of Tents |
| --- | --- |
| Hubbard Commons | 27 |
| 144-157 IMU Hallway | 4 |
| Big Ten Lobby | 11 |
| IMU Ground Floor | 83 |
| River Room* | 70 |
| Total | 205 |
*Private dining and meeting rooms are not included.
*The Iowa House lobby is not included.